Earth Work Contractor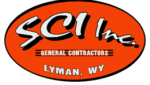 39955 Business Loop I-80
Lyman, WY 82937
Our Capabilities Include:
Complete Installation of Underground Utilities
HDPE Pipe Fusion and Installation
Drainage Systems
Underground Concrete Structures
Wastewater and Culinary Water Pumping and Treatment Plants
Earthwork Including Road and Site Improvements
Earthwork Including Road and Site Improvements
Sand and Gravel Pit Operation
Various Highway Department Projects
Gravel and Heavy Equipment Hauling Operations
Demolition
Snow Removal and Road Maintenance
10 1st Ave. N. * PO Box 579 * Lewistown, MT 59457
59457
Century Companies, Inc. was founded in 1975 with a mission to deliver urban-quality infrastructure construction services to rural job sites and municipalities. Our strengths lie where they always have: general municipal construction, municipal streets, rural airports, farm-to-market roads, highway maintenance, governmental agency project management, peripheral highway construction, commercial/industrial site work, HMA paving services and related contracts management.
Business Genre:  Asphalt Paving, Concrete Laydown, Portable Materials Production, Aggregates/Crushing, Sewer/Water, Infrastructure Development, Construction Management, Civil Site Work.